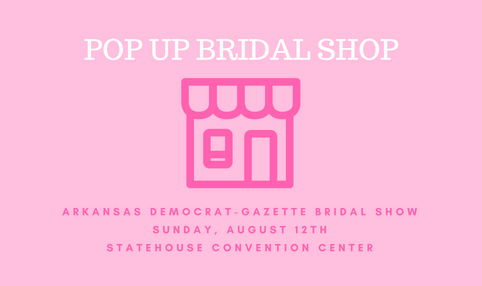 The Bridal Cottage is hosting the first ever Pop Up Bridal Shop at the Arkansas Bridal Show, Sunday, August 12th at the Statehouse Convention Center!
Spend your day saying yes to all your wedding ideas, including your wedding dress!
This is an exclusive one day only shopping experience with The Bridal Cottage! We will be bringing our new collection of bridal gowns for those brides who are ready to find their dream dress!
If you purchase your dress at the Pop Up Bridal Shop, you will receive:
10% off your wedding dress!
and...$200 towards an accessory!
Because this is such a unique event, only a limited amount of appointments will be given by our staff of professional bridal consultants. To be eligible for a Pop Up Bridal Shop Appointment, you must have a wedding date of February 1, 2019 and after, a budget of $1500 and up, and a maximum of 4 people in your party that will be joining you for the appointment.
Pop Up Bridal Shop Appointments are only $100. Not only does this secure your appointment, but you will also be given 2 Bridal Show tickets and a special gift from The Bridal Cottage! Once you book your appointment, you will receive a call from The Bridal Cottage to discuss what time would work best for you and your party, based on the current availability.
We will be booking appointments until Monday, August 5th at noon, unless otherwise filled prior to this date. Remember, we only have a limited amount of appointments available!
Book your Pop Up Bridal Shop Appointment today!